Rega River and Resko Lake Sandbar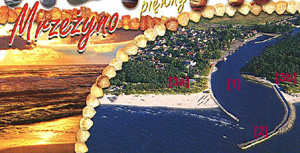 Rega River outlet [1] and Lake Resko Barrier are localised in West part of Polish coast. Rega - one of the bigger Northern Poland rivers' in its' outlet (Mrzeżyno village) is protected by waterbreakers [2]. West bank of river outlet has narrow beach with cliffed dunes. East bank of outlet has wider beach [3a] but also cliffed dunes. But wider beach shows that debris flow is coming from the East to the West direction. Absence of new foredunes on this wider beach is caused by west wind blowing sand from beach in East direction, where foredunes appear.
Further in the East direction beach become wider with small dune hillocks under. It is in Rogowo village neighbourhood (formerly closed and restricted area because of big military base). In many places dunes on the hinterland of this area are blown and without plant cover caused by military activity. Then begin short sandbar of Lake Resko Przymorskie that is connected with Baltic in Dzwirzyno village. On the East bank of outlet from lake dunes are badly washed out (between people who live there is known joke: one man is asking another - how far from your house is to the sea? He answered - year by year closer).
Behind Dzwirzyno beach again becomes wider with softer dune slope. On the hinterland appear big, formerly wandering dunes (in some places they are blown). On beach also appear big pebbles and pieces of peat. Foredunes of this part of coast (between Dzwirzyno, small Grzybowo and Kołobrzeg town) are changing along. Sometime there is only cliffed old dune with pine trees on its top and sometimes is appearing coast with new foredune, even to 2m wide. But 3-5 km from Kołobrzeg dune is cliffed with visible peat under it.

Web page copyright Łabuz Tomasz. See also http://bramaswiny.szc.pl.

.:top:.